Florentina Spray Stone Flooring System

Florentina Spray Stone Flooring will turn your drab concrete surface into an elegant stylish design feature.  A remarkably hard wearing and non-porous overlay which replicates the stunning appearance of stone granite.
Florentina Spray Stone Flooring is perfect for use in difficult to access areas that would not necessarily be suitable for real stone.  Flexible, hard-wearing and attractive, this environmentally friendly, non- porous spray overlay is suitable for both interior and exterior concrete flooring surfaces.
Resistant to dirt, mould, grime and other contaminants, Florentina Spray Stone will transform your concrete floor into an attractive focal point that will endure regular use for years to come.
With a gorgeous selection of modern earth tones to choose from,  Florentina Spray Stone is ideal for both new projects and renovations both interior and exterior.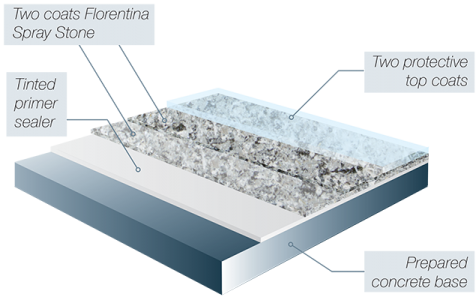 Florentina Floor Colour Range
The Benefits of a Florentina Spray Stone Floor
Easy to clean seamless finish
Suitable for uneven flooring surfaces
Hardwearing and long lasting
Resistant to spills and moisture
Cost effective alternative to natural stone or tiles
Suitable for interior and exterior – UV resistant
High impact and abrasion resistance
Florentina Spray Stone Flooring is Ideal for: